JAN '16
Check out my new book!!!!
Make:Fire The Art and Science of Working with Propane (Amazon.com)
Website up at
MakeFireBook.com
!
---
APR '15
In honor of the (soon to arrive)
Handibot V1.1
, I've taken some pictures of
'The Little Horrors of My Shop'
before I have to reshuffle it for the Handibot.
---
DEC '14- JAN '15
Lots of recreational programming going on!
OpenSCAD program. The
latest build over at Github
has new
proportional scalemarkers with numbering
that I coded!
I've also been working on special cursors for
rotating and translating with the mouse
and setting the
Windows Document Icon
. I've started on a couple of other issues as well.
This has been a great learning experience! I've been working with SVN for years, this is my first foray into Git. I LOVE it! I'm also spending waaay more time in Qt and C++ than I'm used to as well as picking up some OpenGL! Funny, in a lot of ways, the older I get, the faster I learn. Or maybe time is just passing faster and I'm fooling myself. Who knows!?!
For a lot of different converging reasons, I've been really interested in having an EKG setup at home. I purchased one of the
Olimex SHIELD-EKG-EMG
Arduino shields and writing code to measure
QTc
with it. I've got a GitHub repository and wiki up for my project:
pyEKGduino
.
---
OCT '14
Finally finished my leather messenger bag project!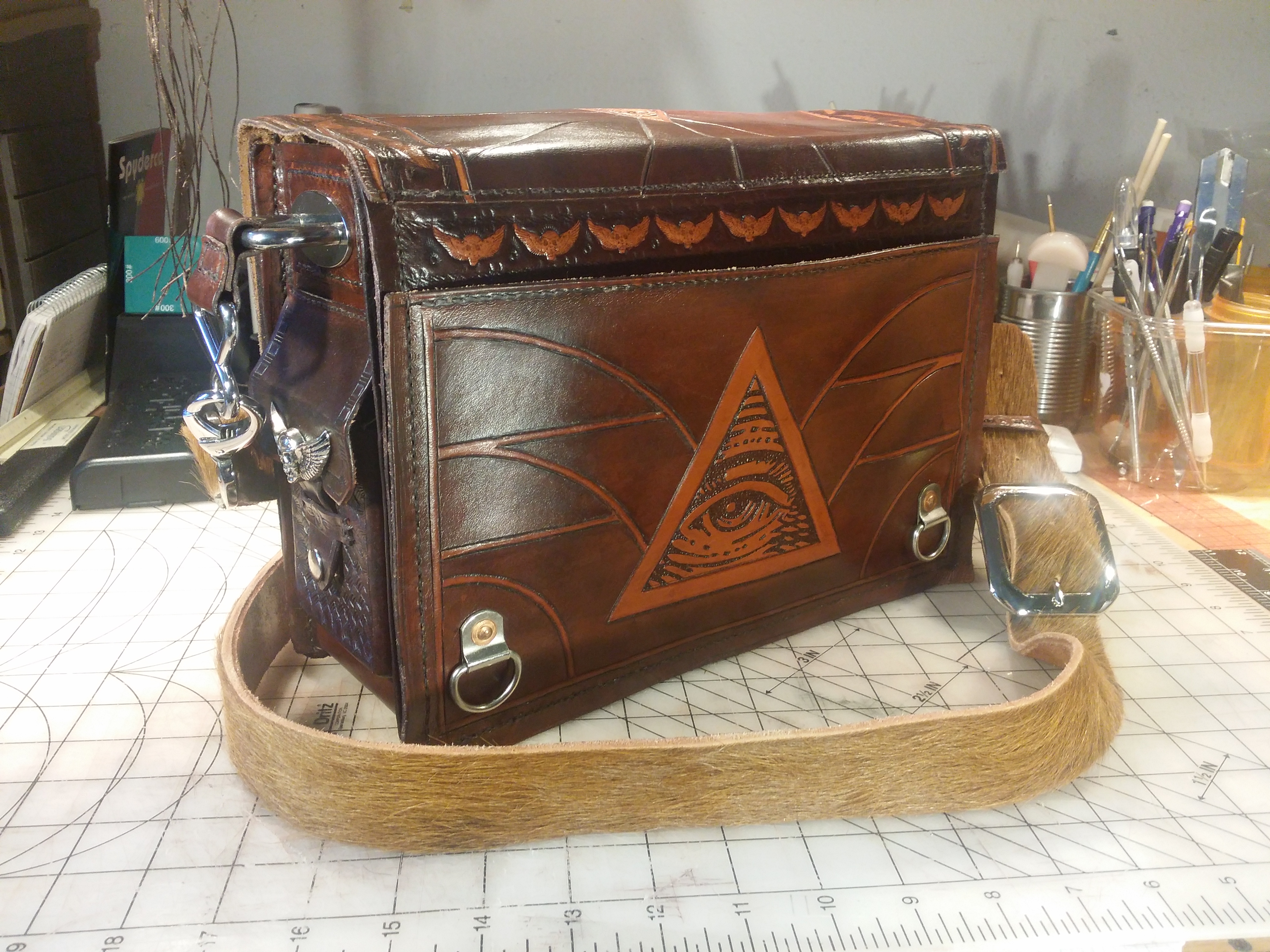 ---
JUL '14
Just sent off to OSH Park for a run of the new BooshController PCB's
---
APR '14
We had a great time at Austin Mini Maker Faire! I had a blast as Fire Coordinator and learned a huge amount about getting Fire and Flame permitted by the Austin Fire Department! I also taught my

Propane 101 for Artists and Makers Class

and did a presentation on my big propane cannon project the 'BiGun'.
---
OCT '13
I had a great time at DreamForce 2013 giving a Developer Track Presentation on "Integrating SalesForce with BI and Data Warehouses"


---
---
Rescued Internet Writings:



Technical Resources:



Print Publications:
12 Reasons You Should Be Using OpenSCAD
Make: Ultimate Guide to 3D Printing 2014 - March 2014
12 great reasons you should bd doing your modelling for 3D printing in OpenSCAD!
---
Wireless WebCams From X10
Nuts & Volts Magazine - June 2001
Comprehensive review of the X10 Wireless Webcam package and it's suitability for hardware hacking.
---
Prosthetic Sarcasm with Emoticons for Speech
Nuts & Volts Magazine - October 2000
Description of micro-controller project building a wearable LED matrix and chord keyboard to display emoticons while talking to people. Very useful for those with a broken sarcasm system.
---
Taking Things Apart: The Joy of Microcontroller Disassembly – Part 1
Nuts & Volts Magazine - August 2000
This article will describe the basic concepts you need to understand how a disassembler works
---
Taking Things Apart: The Joy of Microcontroller Disassembly – Part 2
Nuts & Volts Magazine - September 2000
A PIC 16C84 Disassembler in Python - This month, write code to implement the functions described in Part 1.
---
Your Hottest Tool May Be ICE
Nuts & Volts Magazine - January 1999
Been drooling over the thought of owning your own In Circuit Emulation tool? Here's one for under $130.00!!
---
Ease Your Administrative Woes with Transporter
Lotus Notes Advisor Magazine - February 1996
Review of the Transporter tool for Lotus Notes
---
Take the High Road to Notes Applications
Databased Advisor Magazine - October 1995
Review of Lotus Notes application development tool
---
Test Drives, Integrate Your Office with Notes
Databased Advisor Magazine - December 1995
Review of Lotus Notes integration product
---